The Town of Westfield and the Westfield Public Schools tout a commitment to environmental stewardship and making Westfield a more sustainable community. Installing 250,000 square feet of artificial turf behind a school does not fulfill these goals and will negatively impact the environment.
Synthetic turf fields wear out and need to be replaced every 8 to 10 years. Within that lifespan, crumb rubber infill breaks down over time and more needs to be added to prevent athletes from experiencing concussions and other injuries.


The worn-out plastic grass, backing material, crumb rubber and alternative infill materials are not readily recyclable. In fact, most worn out synthetic turf fields end up in landfills. It is not fair or responsible to create a mess and then expect future residents to bear the cost of cleaning it up.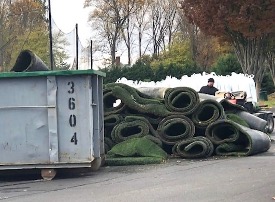 Sustainable Jersey, of which the Town of Westfield is a member, identifies synthetic turf fields as heat islands and states, "despite their green color, synthetic turf fields actually absorb high amounts of solar energy due to their plastic makeup and can become extremely hot in the summer, reaching up to 160 degrees Fahrenheit".


The manufacturing, installation, service and disposal of a 6-acre synthetic turf facility is estimated to generate 166.8 tons of carbon dioxide, in addition to other greenhouse gases and pollutants.


The plastic grass blades and backing used on synthetic turf fields contain perfluoroalkyl substances or PFAS, a class of chemicals referred to as "forever chemicals," which have been linked to cancer, nervous system toxicity, immune  dysfunction, thyroid, and cardiovascular disease.  "PFAS are persistent pollutants that have been shown to contaminate wetlands and drinking water.  These findings raise concerns about PFAS and groundwater contamination from turf field runoff," according to the experts at the Icahn School of Medicine at Mount Sinai.


Natural grass fields remove carbon dioxide from the atmosphere and store it in the root mass and soil which creates a carbon sequestration system that is sometimes referred to as a carbon sink. Removing something so beneficial and replacing it with 250,000 square feet of plastic grass and about half a million pounds of crumb rubber infill is not in keeping with what our students are being taught with regard to solving the climate change crisis.


"From an environmental and health standpoint, organically managed natural grass is a safer choice for sports fields. When the full product life cycle is considered, organically managed natural grass also offers lower costs over time," according to the Massachusetts Toxics Use Reduction Institute (TURI).